You can click the small pictures in this column to see larger versions.
Posted on Tuesday, October 06, 2015
Metamora Trip
Saturday morning we left the farm in a drizzling rain. We were headed to Metamora, IN and were hoping it would not be raining that far north. The farther we drove the less hope we had, but after we crossed the Ohio River and then left Ohio and drove into southern Indiana the clouds were lighter and the rain stopped. We wound around a narrow country road until we came to Metamora, then drove back and forth through town a couple of times to figure out where would be the best place to park the truck. There were thousands of vehicles parked everywhere there was flat ground. I paid $6 to park across from the main tourist trap. I took Coco along on a leash instead of leaving him in the truck. There were several hundred booths and shops that we walked past as we made our way towards the backside of the town.

 
We crossed the canal and Linda said that most of the handmade things were in this area just past the old mill and the train. After a while, I found a nice bench and told Linda I would keep Coco and wait as she and Stacey journeyed up and down the rows of shops. Several people stopped and talked to me about Coco. We bought a few things and a few hours was enough for Linda, then we walked back to the truck and on the road to Daleville. Coco actually did fairly well on his leash.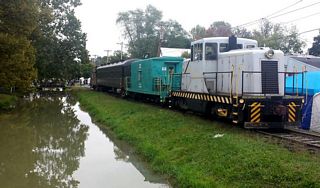 Sunday we went to Lapel, met Kim and Kenny Bourke at Alevia's old house that they are turning into a daycare for kids. We unloaded a few computer monitors, keyboards and mice for them, moved some furniture and just helped with whatever they were doing.
Monday, Linda and Stacey went to Pendleton to visit Nana. Linda said they went shopping a little while with her.

 
Tuesday morning we cleaned up the house, left the heat set on 55 degrees and locked the door, then headed to KY.
Posted on Monday, September 28, 2015
Posted on Thursday, September 24, 2015
Posted on Saturday, September 19, 2015
Posted on Sunday, September 13, 2015
Posted on Friday, August 28, 2015
Posted on Sunday, August 23, 2015
Posted on Tuesday, August 18, 2015
Posted on Monday, August 17, 2015
Posted on Sunday, August 16, 2015